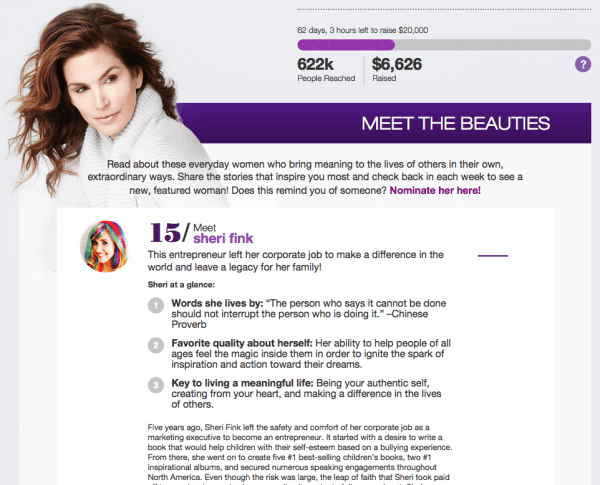 The inspirational speaker, author, and entrepreneur's story will benefit women everywhere and the non-profit Cancer and Careers
Inspirational speaker, best-selling author, and award-winning entrepreneur Sheri Fink is selected by supermodel Cindy Crawford to be featured in her Meaningful Beauty "Beauties Give Back" campaign as an "everyday woman who brings meaning to the lives of others in her own, extraordinary way."
The campaign uplifts women through powerful and motivational messages and raises money for Cancer and Careers, a non-profit organization that assists and empowers cancer patients. Each time a Meaningful Beauty story is shared on social media, one dollar will be donated toward the cause.
"I'm beyond words," says Sheri Fink. "I'm crying tears of joy. Giving back to women in a positive way is a mission I hold close and near to my heart. I hope that my story continues to inspire others to see the true beauty within themselves."
heri's definition of beauty is one that is applicable to everyone: "You are perfect just the way you are. It's okay to be different. It's not about chasing a number on a scale or conforming to someone else's idea of beauty, it's about honoring your unique self…It's about determining what really matters, and making decisions that align with your vision for your life. That's what makes us strong, builds our character, and determines our destiny."
For more information on the Beauties Give Back campaign, and to share Sheri's inspirational message, visit http://beautiesgiveback.com.
About Whimsical World Co-Founders Sheri Fink and Derek Taylor Kent
Whimsical World is an empowering brand created by #1 best-selling authors and inspirational speakers, Sheri Fink and Derek Taylor Kent. Whimsical World's mission is to inspire, delight, and educate children of all ages while planting seeds of self-esteem and high achievement. We aim to make positive change through the power of whimsy and imagination.
Our catalog of award-winning, fun-to-read children's books suit the needs of every child and parent. Themes include anti-bullying, being brave, asking for help, adapting to change, being authentic, and being a true friend. Our books expand children's imaginations with whimsy and wonder from the depths of the ocean to the heights of the galaxy.
Whimsical World brings joy, positivity, and wonder. We create magical live experiences and merchandise with a message that every child and young adult is thrilled to own and every parent is proud to purchase.